GSO Partner, Johanna Mayson, and Associate, Susie Bethel, recently attended the Meritas Annual General Meeting in Chicago, which took place from May 3 to 5, 2023. Meritas is a premier global alliance of independent law firms and GSO has been a proud member since 2018.
This year's Meritas event was packed with engaging and enriching programs, including presentations and workshops on current issues impacting the legal profession, which encouraged members to debate and share ideas. 
Johanna said the Meritas AGM was a fantastic experience that provided great face-to-face networking opportunities and a collaborative peer platform where attorneys from across the globe were able to discuss common topics and share experiences and solutions. She noted it was particularly fascinating to learn how various firms in other jurisdictions handled similar issues. 
The format of the event was just as interesting as the content.  Johanna commented that "aside from keynote speeches and power point presentations, there were also round table and small group discussions, which were insightful and substantial, covering topics like succession planning, community engagement, young associate views, firm culture and strategy in the age of generative AI. Members were encouraged to participate in meetings by using high-tech apps which captured real time surveys and answers that were displayed and incorporated into the active discussion. The meeting format also included informal attorney engagement opportunities at cultural and iconic venues such as the Museum of Contemporary Art and the 360 Observation Deck on the 94th floor of the John Hancock Center" she said.
Johanna said the highlight of the meeting for her was an ice-breaker event for the Women's Leadership Congress attendees, which was held at the largest Starbucks Roastery in the world. The shared experience was an amazing moment for creating some great memories and peer connections, which continued throughout the meeting and beyond.
Overall, the event was a great opportunity to connect with other legal professionals and stay up-to-date on industry trends.
GSO is proud to be a part of the Meritas network and we look forward to attending future events to continue learning and sharing insights with our global partners.
GSO Partner Johanna Mayson and Associate Susie Bethel with colleagues from Las Vegas and Canada at the 360 Chicago Observation Deck on the 94th floor of the John Hancock Tower.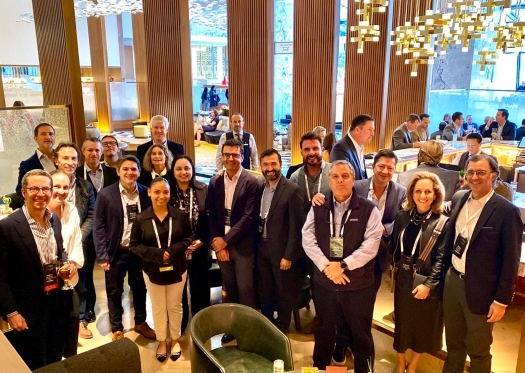 Legal colleagues at the Latin America and Caribbean event at the Ritz Carlton.