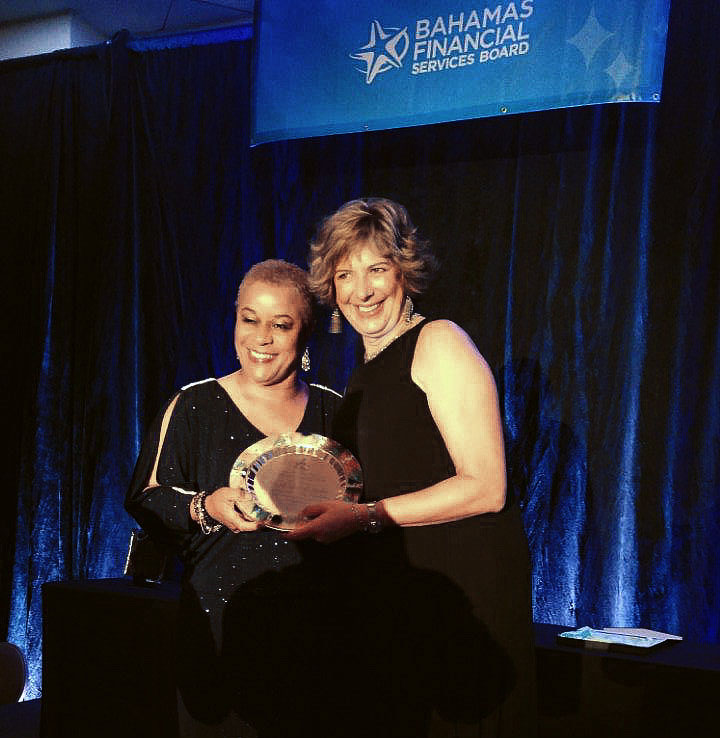 On Friday, 18 November, Linda Beidler-D'Aguilar received the prestigious Minister's Award at the Bahamas Financial Services Board's 2016 Annual Awards Gala.  The Minister's Award recognizes an individual who is deemed to have made outstanding contributions to the financial services sector of The Bahamas, and is an exceptional achievement within the financial services industry.
Linda served as a Director of the Bahamas Financial Services Board from 2010 to 2014 and continues to be active in BFSB's regulatory, legislative and product development initiatives.  She has assisted with drafting updates to various financial services legislation and regulations; she was deeply involved in the drafting of the Investment Condominium legislation, for which, as a member of the ICON Working Group, she received BFSB's Development & Promotion Award in 2014.
She has traveled with the Ministry of Financial Services and BFSB, most recently to Mexico.  She speaks regularly at BFSB events including the 2014 and 2016 IBFS conferences, the 2014 and 2015 Bahamas Landfall events in Sao Paulo and Rio de Janeiro and the 2013 Bahamas Landfall event in London, as well as other financial services industry events including the 2015 Private Wealth Brazil Forum and the Third Annual Caribbean Conference on the International Financial Services Sector.  She's written articles for magazines including BFSB's Gateway and LatAm Fund Manager, as well as informational and promotional pieces for BFSB.
Linda is actively involved in the education of persons throughout the financial services sector to ensure that participants are up to date and familiar with the new legislation, and have the necessary information to perform efficiently and effectively.  She has assisted the Bahamas Financial Services Board with training and educational programs for the industry as well as public sector employees; independently she has presented to the Securities Commission and Central Bank.
---